Discover more from The Human Resolve®
A newsletter for living your best life. Weekly tips on how to feed your "three brains" — head 🧠 heart 💓 gut 🤰
How We Move: Under Armour® Preview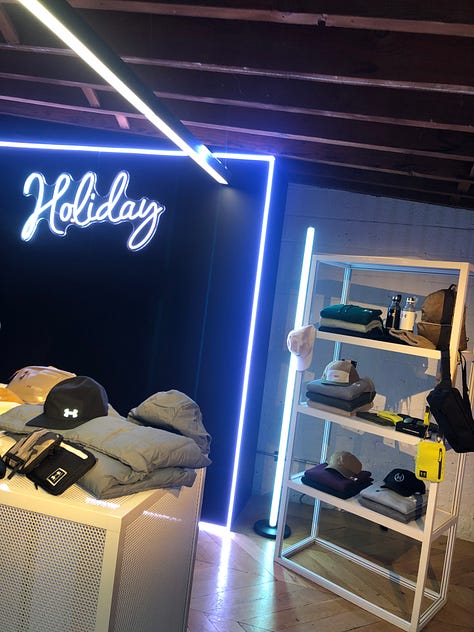 As I look back on my recent experience at the Under Armour® Holiday Season Preview in New York City, I can't help but share the profound insights I gained. What started as a simple media invitation turned into a captivating exploration of the very essence of movement, both in sportswear and in life.
💪 The Power of the Armor:
Under Armour® is renowned for providing top-notch gear to athletes, but what I discovered was that we, as individuals, also wear our own unique armor. This armor comprises our beliefs, values, and the skills we've honed over time. It's the source of our strength and resilience, and as I browsed through the innovative sportswear, I saw how it mirrors our need for adaptability and growth.
💃 The Dance of Life:
Life, as I observed at the event, is a perpetual dance. It demands both discipline and spontaneity. Every step we take, every challenge we face, and every success or setback we encounter is a part of this intricate interplay. It goes beyond the physical, extending into our emotional, intellectual, and spiritual dimensions. The innovative products on display were not just about style but a reflection of how we should approach life – with grace and the willingness to learn.
🧠 The Profound Lesson I Uncovered:
At the intersection of our armor and the dance of life lies a profound lesson. The more adaptable our inner armor, the more gracefully we can navigate life's ever-changing landscape. This event reminded me that our armor isn't meant to keep us static; it's the foundation upon which we explore new paths and embrace change.
In the midst of cutting-edge sportswear, groundbreaking footwear like Slip Speed™ with Stephen Curry's 11 flow technology, I found myself truly inspired. This experience was a vivid reminder that, much like these products, our lives are full of choices. It's up to us to choreograph the next steps.
I encourage each of you to reflect on your personal journey: What is your armor, and how has it evolved? Are you embracing the dance of life, learning from every step, and adapting to its rhythm?
Life is a fleeting, precious gift. Let's make the most of it by refining our movements.